---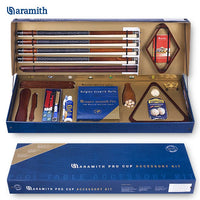 What you get with the Super Aramith Pro sets:
Matched professional set: Precise calibration of each ball for maximum consistency within the set

Worldwide endorsement: Professional grade Aramith phenolic resin, widely used in tournaments worldwide

Outstanding endurance: Through hardened vitrified surface with an ultra-high density for exceptional scratch and impact resistance

Lowest yearly table cost: Extra durable smooth surface that minimizes

 table cloth wear for an exceptional cloth and ball longevity

Made of Super Aramith Pro: The highest-end phenolic resin available designed in Saluc laboratories

Professional quality specifications for all criteria: density, balance, diameter, roundness, color, glossiness, hardness, weight
What's included in the kit:
Super Aramith Pro-Cup Pool Ball set 2 1/4" (including the famous 6 red dots cue ball)
4 pcs of 57" (145 cm) top-quality maple Pool Cues (2-pc, 13 mm tip diameter) with Aramith logo
10.5" (27 cm) Pool Table Brush with Aramith logo
Under Rail Pool Table Brush 
Leather Tally Shaker Bottle
1 set of Wooden Tally Balls
Wooden cue rack for 6 cues with Aramith logo
Wooden Triangle for 2 1/4" balls with Aramith logo
Wooden 9-ball rack
2-pc Bridge stick with Aramith logo
Brass Bridge Head
Deluxe Repair Set: 6 chalks, 4 cue tips, cue tip glue (10 g), cue tip clamp, 4 replacement ferrules, cue tip sander with 2 replacement abrasives, 2-sided cue tip shaper, 4 pool table spots
Aramith Jim Rempe 2 1/4" Training Pool Cue Ball with manual
Pool game rules book
Included in the book:
Instructions on the fundamentals of pool with photographs showing proper stance, bridge, stroke and follow-through
Fully illustrated instructions for making bank shots, rail shots, straight-ins and more, plus "English" and its use
All game rules including bank pool, one pocket, kelly nine-ball, bumper pool and others...with referee instructions
Interesting facts on cues, their maintenance and repair plus detailed instructions on re-covering your pool table
Product specifications:
Ball diameter: 2 1/4" (57.2 mm)

Box size : 42" x 15" x 5" (107 x 38 x 13 cm)

Box gross weight: 23 lb (10.5 kg)

Made in Belgium
For several decades Belgian Aramith Billiard balls have enjoyed a legendary reputation for outstanding endurance and uncompromised quality. Used by over 85% of players worldwide, they are recognized as the reference of the industry.

Made by Saluc in Belgium, Aramith excellence is the result of a high-tech process that combines the unmatched characteristics of Aramith resin with fine Belgian craftsmanship.
Their consistently reliable performance guarantees players the pleasure of razor-sharp precision. Their exceptionally long product life offers the table owner the lowest ball cost on an annual basis. That is how Aramith for almost half a century gained its legendary reputation as signature for true and unrivaled quality.
First name
Last name
Submit
Account form fields
Data were successfully stored
Something went wrong, please try again
These fields can not be empty, must be checked, or have to be valid